Are YOU ready for hair replacement?
Ask yourself these questions to see if hair loss treatment with Hair Builders of Portland is right for you:
Do you find yourself staying home on weekends because you are frustrated about the appearance of your hair?
Are you spending more and more time in front of the mirror trying to make your hair work?
Are you afraid to let your hair get wet in public places because it will expose your thinning area?
Do you dread leaving your home or office on a windy day because of what it will do to your hair?
Do you find yourself shying away from meeting new people, or are you spending less time with the people you know because of your hair loss?
Are you limiting your activities because you are self-conscious about your hair?
Do you avoid standing under bright light?
Are you sick of people guessing your age to be far greater than your actual years?
Are you sick of being the brunt of your friends' "bald guy" jokes?
Is your self esteem at an all time low because you're slowly losing more and more hair?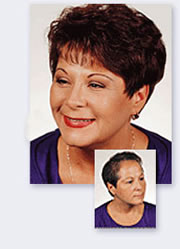 If you answered yes to any of these questions, we can help you
Start by scheduling a free and confidential consultation today:
[wpforms id="1300″ title="false" description="false"]
Hairbuilders of Portland values your privacy and will NEVER forward your information to a third party. For more information, please see our privacy policy.