Hair Replacement, Hair Loss Treatment & Restoration in Maine, New Hampshire and Northern New England.
Hairbuilders of Portland is your source for the very best in non-surgical hair replacement. Providing treatment for baldness and hair loss in Maine, New Hampshire and New England, in a relaxing, respectful environment.
Hairbuilders specializes in hair restoration for thinning hair and for balding men and women. Whether you're looking into non-surgical hair replacement to simply add some hair to those not so full spots, or looking for a new, full head of hair, our experienced staff has been helping men and women change their lives for over thirty years.
Non-surgical hair replacement is a proven, effective hair loss treatment for both men and women. By definition it is safe and it yields satisfying results. If you haven't thought about non-surgical hair restoration, you haven't explored the one true hair loss solution that thousands have come to trust.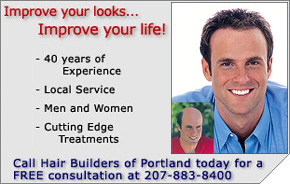 Free Consultations!
Come in for a confidential hair loss consultation, and let us find the solution right for you. Please call us at 207-536-4881, contact us through email, or stop by our Westbrook, Maine office.
You can look and feel better – we are here to help you achieve your goals. Located in Westbrook, Maine, just ten minutes from Portland, our professional staff is dedicated to delivering the very best in personalized hair replacement. Hair restoration products such as Rogaine with Minoxidil, Propecia, Proscar, Topical Finasteride, and other treatments for hair loss may yield disappointing, time-wasting results. There is an alternative to combating Androgenetic alopecia, the cause for male pattern baldness and hair loss in women.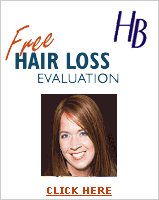 Visit us and see what we are all about!
Call us to schedule a free consultation at (207) 536-4881 or email us [email protected]