Free Hair Loss Consultation, Confidential Hair Replacement Discussion in Southern Maine
We can help you achieve the hair you've dreamed of having. And we can start today.
Are you fed up with your hair loss? Achieving mixed results with your current treatments? Ready to talk to someone but not sure where to start, or who to trust?
Then we welcome you to come in for a confidential, no obligation complimentary consultation. We want to get to you and your case, and see if the non-surgical, scientifically proven hair replacement techniques we have make sense for you. The best way to do this is to meet one of our hair replacement professionals in person to discuss your experiences.
Call us today at (207) 536-4881 to set up a consultation today, or by filling out this confidential form. You may also use this form for general inquiries about Hair Builders of Portland, and we will respond to you promptly.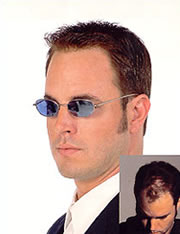 Thanks for your interest, and we look forward to helping you.
[wpforms id="1300″ title="false" description="false"]